derBaum.com
a page about
Economics
,
Web Development
and
food
.
An n-Sector Migration Simulation
Nomads work and love
This weeks issue of
The Economist
is running a special report on mobile telecoms:
Nomads at last
.
The report describes how today's ubiquitous mobile technology allows us to work, live and love like nomads (wanderer), without staying long in the same place.
Our documents, spreadsheets, contacts, calenders,... are always available online in the cloud. So unlike previous nomads, we don't have to carry much weight. An iPhone like device may do. Where ever we are we can sit down, do some work, play around with ideas or catch-up with customers, coworkers, or friends and family.
Who wants to be at the office from 9 to 5? If I'm working, does it matter if I sweat in a cubicle or enjoy fresh air in the park? Of course it does! And reading this report just gave me additional encouragement to stay out of that cubicle.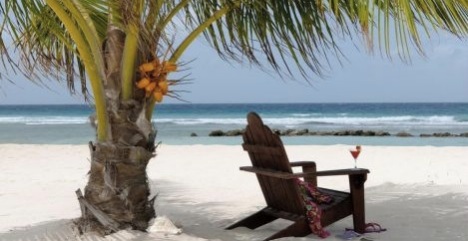 Surely this beach has Wifi
For some an office may be great to get focused, while others prefer a beach. If you find yourself bored or in need for inspiration, get moving. (Right now, I'm in a coffee shop, but that beach looks inviting). In the end, where we are becomes secondary. What counts is that we get things done and spend time with those we love.
Or, as Sigmund Freud put it, Menschen müssen arbeiten und lieben um Erfüllung zu finden (humans must work and love in order to find fulfillment). Mmm, I love it when The Economist runs quotes like that.
Could the Dollar fall any lower?
Free flights to Hong Kong
Please, No Asiaphobia
Everyday prices in Beijing
Communication Costs in Austria and Germany
China's share of the World
Are you messing with me?
Why Economics?
Firework for the Pig
Hustler: an aggressively enterprising person; a go-getter
Don't retire, give Lectures like Hans Bethe
Eier von Glücklichen Bauern
Great Lectures
Ready to fly?
Incentives for running
China Know How 2006
Deng Xiaoping's Nest
Milton Friedman about Hong Kong
The Truth about Capitalistic America
Wal-Mart's Data Warehouse
Economics in Beijing und Shanghai
How I Learned To Stop Worrying And Love Starbucks
Human Migration and Migration of Firms
Human Migration in an Expanding European Union
Hamburg
Stiction
World Economic Forum 2006
On Deregulation
Fair Deal Planning Machine
Macroeconomics
Debt free?
Psion at eBay
Friedman on government
Shift Scheduling
Ending Online Auctions
Quicky
Business modeling
Why America Will Fail
Internet usage in the US and EU
Spieltheorie für Triell
NYT: Will the US track foreign students?
Evolutionary Electronics